Mercedes are set to revert to their traditional silver livery for the 2022 season, according to a report.
The eight-time consecutive Constructors' World Champions have had predominantly black cars for the last two seasons as an expression of support for Lewis Hamilton's endorsement of the 'Black Lives Matter' movement.
But a report in German newspaper Bild says Mercedes will switch back to their previous silver colour scheme next year, when George Russell joins Hamilton in the driver line-up in place of Valtteri Bottas.
In early October, Hamilton said it would be "a nice change" if his team dropped the black livery in favour of returning to silver.
Although it was the seven-time former Drivers' World Champion who requested Mercedes' change of livery and appreciated that it had been implemented, he said he would have no problem about reverting to the colour most readily associated with the German manufacturer.
"It's originally a silver arrows," said the 36-year-old Briton. "When I asked if we could go to make the car black last year, in terms of the symbolism, and what we intend to do moving forward in terms of support, I wasn't expecting it to last particularly long and we carried it into a second season, which was awesome.
"If it goes back, it will be a nice change. It doesn't deter us from the changes we are making internally as we continue to truly push for diversity, even working with all of our partners.
"We've got a good programme going, so it doesn't make a difference."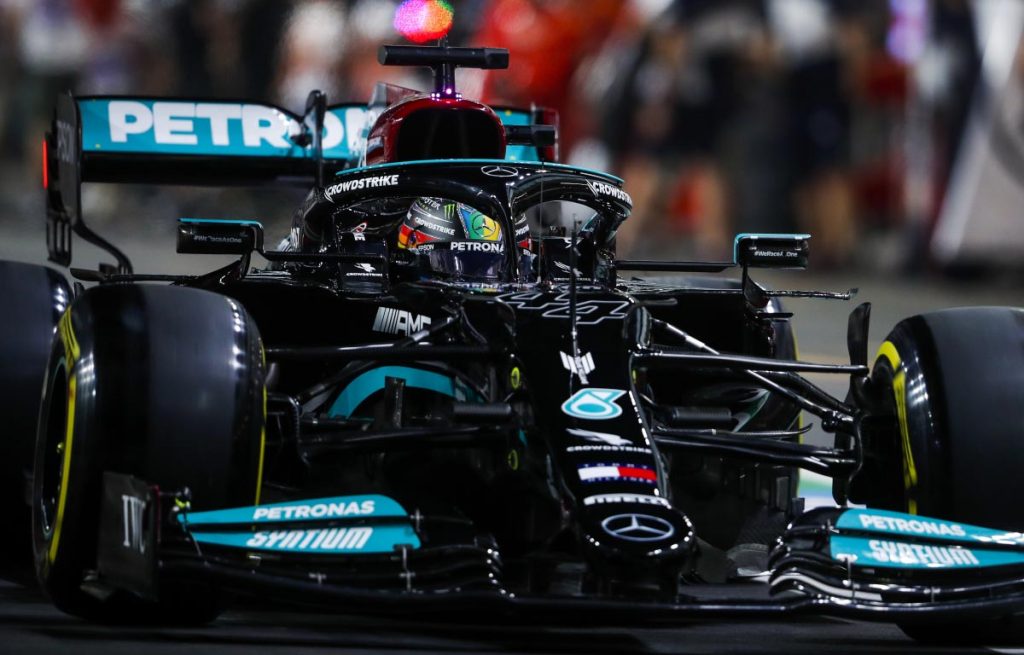 In the summer, Hamilton launched Mission 44 to empower youngsters from under-represented groups in the UK, seeking to ensure greater equality in both employment and the education system.
That came soon after his Hamilton Commission published its findings and recommendations to help improve diversity in the motorsport industry, which the 2021 World Championship leader said he was "personally committed to ensuring they are put into action".
On Mercedes' part, they announced the Accelerate 25 programme towards the end of 2020, stating a five-year plan with the target of 25% of all new hires in the team to be from under-represented groups until 2025.
Since losing his Drivers' world title in controversial circumstances to Max Verstappen at the Abu Dhabi Grand Prix, Hamilton has yet to confirm anything about his plans for next year, although he has a contract for another two seasons with Mercedes.
According to his brother Nicolas, the 103-time F1 race winner is currently taking a break from social media.